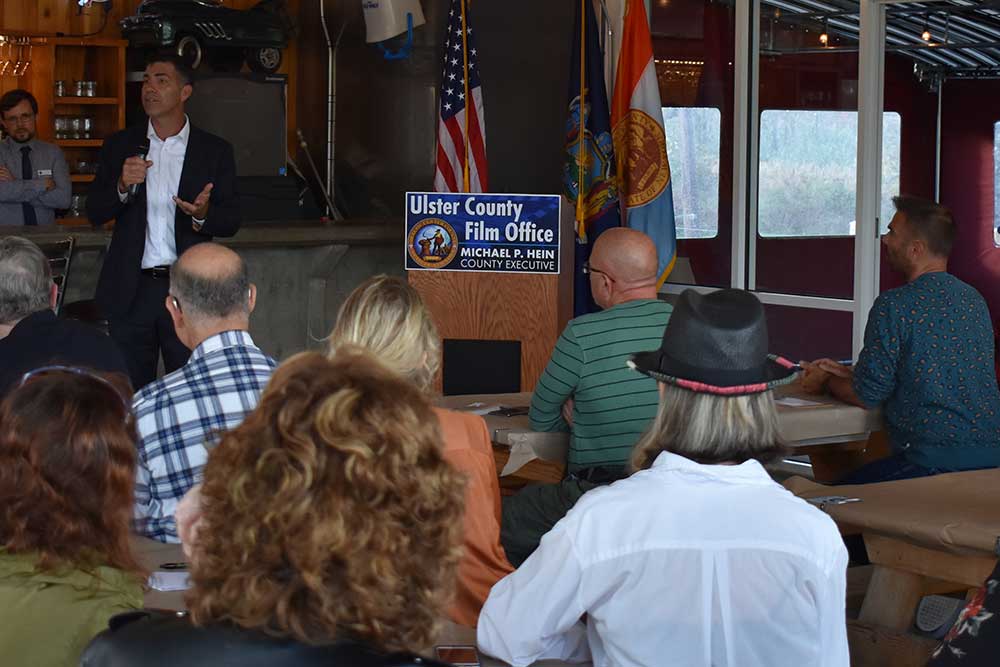 Saugerties, N.Y. – As part of his ongoing commitment to help local businesses take advantage of the recent expansion in film, media, and television productions that resulted from the post production film tax credit he fought for, Ulster County Executive Mike Hein hosted a Workshop On Doing Business With the Film Industry in partnership with The Hudson Valley Film Commission. With over 50 business owners and industry professionals in attendance Tuesday afternoon at the Smokin' Pony Restaurant in Saugerties, the workshop was designed for businesses in Ulster County that have worked with film productions already and those that are new to the process. Topics of discussion included the kind of vendors the film industry needs, how do you get your business onto production vendor lists, and other methods of getting your business in front of the decision-makers in the film industry.
Michael P. Hein, Ulster County Executive
"Ulster County is attracting an increasing number of film, media, and television productions and industry professionals," said Ulster County Executive Mike Hein. "We have a lot to offer to the industry: unique geographic features, picturesque locations and welcoming communities to host film productions, and our local businesses associated with the film industry are thriving. We are also fortunate to have a well-established creative community through the work of amazing partners like the Hudson Valley Film Commission, the Woodstock Film Festival, and many others. By working together and leveraging everything that we have to offer, we can build on this momentum and attract more film, media and televisions productions to Ulster County, create high-quality jobs, and grow our creative economy."
John Livermore, Smokin' Pony Restaurant
"Ulster County is already home to a number of world-class businesses that work with and provide services for film, television, and entertainment projects – five businesses on the stretch of Old Kings Highway in Saugerties alone. Having worked with several film productions throughout the Hudson Valley, I know that there is amazing potential for existing businesses to work with these new projects and grow. I want to thank County Executive Hein for his efforts that have expanded these projects in Ulster County and the Office of Economic Development for putting this workshop together."
Laurent Rejto, Hudson Valley Film Commission
"Since the new film tax credits that County Executive Mike Hein spearheaded went into effect in November of 2016, the Hudson Valley Film Commission has seen a 50% increase in film production. It's amazing to work in a county like Ulster that has shown such a commitment to the film and TV industry. All these new projects create opportunities for Ulster County youth and industry professionals, many of whom are moving to the region. Programs like those being offered by County Executive Hein and the Office of Economic Development will be a catalyst for further growth, additional job opportunities, and regional economic development."
The Workshop On Doing Business With the Film Industry series is part of a comprehensive strategy from County Executive Mike Hein to encourage more film, media, and television productions to select Ulster County as their filming location and, ultimately, grow the sector locally and create more career opportunities for Ulster County's youth and industry professionals. Earlier this month the County Executive, in partnership with the Bank of Greene County, Catskill Hudson Bank, Ulster Savings Bank, and Wallkill Valley Federal Savings & Loan, announced the new Ulster County Film Finance Program which will be available to film, media and television production and post-production businesses working in Ulster County.
The next workshop will be held on Wednesday, November 1 at 6pm at SUNY New Paltz, Lecture Center, Room 100.