The Ulster County Film Office, Woodstock Film Festival, Stockade Works, Hudson Valley Film Commission, location scout Jillian Fisher, American Made Monster Studios, BCDF Productions and many others are working together to grow the film and television industry throughout the region. Since 2000, more than 500 productions have created thousands of jobs and $200+ million dollars of economic development in the Hudson Valley. In the last two years alone, several large, high profile projects, such as Avengers: Endgame, The Dead Don't Die, I Know This Much Is True, The Undoing and others have been produced here. Why Ulster County? We offer talented crew, an unparalleled selection of amazing locations, attractive tax incentives, production facilities, and local businesses offering a full range of necessary services. 
Meira Blaustein
Woodstock Film Festival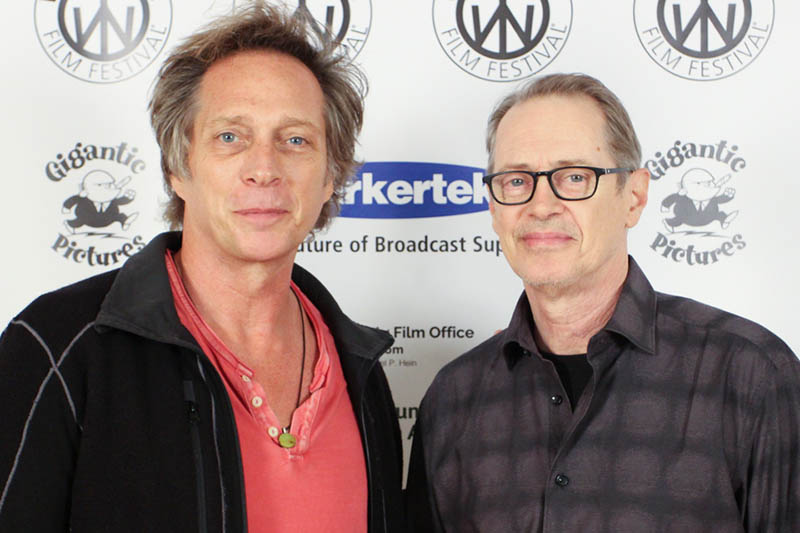 When the Woodstock Film Festival (WFF) began two decades ago, co-founder Meira Blaustein says the few film industry people living in the area were "so happy to have this center, this heart magnet that brought them together for the first time. The festival has been a catalyst for tremendous growth, and hopefully that will just continue."
This year's screenings present the WFF's signature blend of documentaries and narratives covering the current climate. Immigration, gun control, LGBTQ rights, Islamaphobia and other hot button issues; films made by women; and music films will be featured. Blaustein says, "We're presenting a nice mix of films shot all over the world, and here in the area. We pay homage to filmmakers who live here and highlight local films too." 
Blaustein says the festival's 20th anniversary "is a big deal for us, a milestone for the region, and for the independent film industry. We support indie filmmakers in many aspects, and have a bird's eye view of the industry's growth in the Hudson Valley region and beyond. So many filmmakers return here, shoot films, move or vacation here, tell their friends about us, and one thing leads to another."
Filmmakers love to work here because the welcome mat is out. "People are accommodating, and our diversity of natural, architectural and other resources, along with the tax credits the film commission and everyone worked hard to get, make it very attractive to film here." 
 The festival now operates year round, offering panel discussions, screenings, screenplay readings, seminars, and educational labs. "I would love to see more people who live here work successfully in the film industry, and would especially love to see more young people who grow up here in visual storytelling," says Blaustein, adding there are many careers below and above the line. "It doesn't have to be just directing, producing and screenwriting; there's web content, work for programmers and distributors, composing, and a lot of other options." Their focus on youth programming is expanding to showcase this career diversity. 
Parents Van and Daisy Bollé wrote of the festival's Summer Youth Film Lab: "Making a film at her age showed our daughter just how much she could accomplish. The dynamics of conceptualizing and executing a full short film in a condensed time frame gave her a significant sense of pride and achievement, and set her up with ultra-valuable skill sets to carry on into her future. Having mentors and professionals there to share their knowledge and offer guidance was a privilege the students couldn't find anywhere else in this area. Thank you for giving her the opportunity of a lifetime. You have changed a life."
Jillian Fisher
Location Scout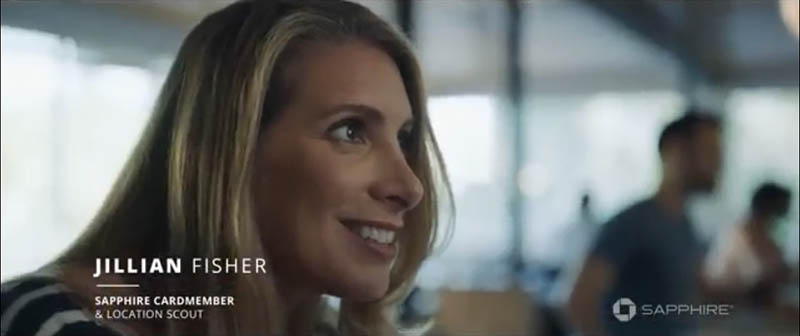 Jillian Fisher is often the third person—after the producers and director—to come onto a film project. "My main job is to bring a director's vision to life. The production company needs to know where they will be settled—for location purposes for the picture, but also where they are going to put crew up—to help form their budget. A lot of top notch people live locally to work on films, which helps keep costs down."
Filmmakers need to create entire worlds for their characters and for their crew as well—not only places to eat, sleep, shop and more—and also lumber to build sets, classic cars, business services and countless miscellaneous items. "It can be an inconvenience when a road is closed," she says, "but even lower budget films tend to have about a million dollar budget. That's a nice chunk of money coming into a community."
"We are finally attracting bigger budget movies. I've worked with many low budget movies that have big names. We could have our own Ulster County Film Festival and show nothing but what's been filmed here: The majority would be indie films, but this summer, Donald Sutherland, Nicole Kidman and Hugh Grant filmed The Undoing (HBO) here, and we will see more higher priced movies coming here because of it. Ulster County can be almost anywhere. For Growing Up Smith (2015), starring Jason Lee, I made Kingston be India. For Crypto (2019), starring Kurt Russell, we became the Midwest. If I see a script calling for farmland, I think 'Great, that's the Hurley Flats'." The film industry is a prime example of a green industry that doesn't have a large footprint, and Fisher says filmmakers use many resources already here. "People are constantly looking at real estate to repurpose to fill a niche. They (the movies) pick up after themselves, or pay a municipality to do so, so the financial benefits have a ripple effect."
She also serves on the board of Upstate Women in Film & Television (UPWIFT), founded in 2013 to serve the region from outside NYC to beyond Saratoga. "There are WIFTs all over the world, and we are a very large chapter. I recommend women who are UPWIFT members for film jobs—including lots of entertainment industry jobs people don't think about," she says. "There's a spotlight now on bringing more women into the film industry and, as one of the first people working on a movie, I help make that happen."
"I'm in a very lucky position. If a movie hasn't crewed up yet, I can direct them to hire local people. The Boot Camps and workshops at Stockade Works are training a lot of top-notch people who are living right here," she adds. "And, even if filmmakers have their own people, they still need to hire certain positions. If I can get five locals on a set, they have their foot in the door."
Fisher is currently working to bring a film here this spring which features one of her teenage idols. "It takes place in the Midwest, so again I have to prove that we can do that here—of course we can!" 
Beth Davenport
Stockade Works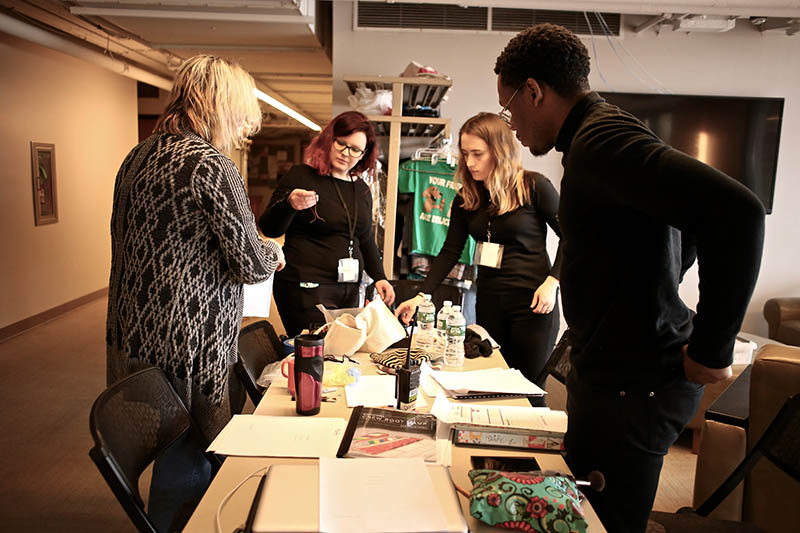 Photographer: Silvia Forni
In 2016, Beth Davenport and Mary Stuart Masterson founded Stockade Works, a non-profit organization dedicated to furthering the potential of media and tech in the Hudson Valley. Their vision was an inclusive and sustainable media ecosystem that supports quality jobs and economic development in diverse communities. 
They looked at production locations like Georgia and Vancouver where similar efforts have succeeded, and realized the region's existing crew base needed to grow to meet increasing demands and create more career pathways for local residents through intensive, hands-on training programs, mentorship and job placement services. 
In 2017, they offered their first Crew Boot Camp to Hudson Valley residents aged 18 and older. Twenty-three locals were trained in everything from how to read a call sheet to departmental rotations and hands on experience on shoot day. "At the conclusion of the camp, all graduates were placed on an independent feature, and some have moved up from there. One Ulster County native went from Camera PA to Second Assistant Camera and is now ready to join the union," Davenport says. 
In 2019, a partnership with Mark Ruffalo's HBO production, I Know This Much Is True, established another Boot Camp training program for 24 people: Eleven graduates were placed on the production, which has been shooting since April and wraps in October. This Boot Camp attracted 320 applications for 24 openings—and half were filled by women and people of color. 
"We are working with local schools, including high schools, BOCES, SUNY Ulster and colleges, to create a career pathways pipeline," she says. "Most people don't realize there are hundreds of jobs on a set. We've trained military veterans, and people who are in their second, third or fourth career change." One young father, a vet who had been an undergraduate student in film, was working construction when he joined. "We recommended him to HBO, and he has been working on both I Know This Much Is True and The Undoing."  
Past workshops held since inception include Sound Production, Line Producing/Budgeting, and Apprenticeships, all taught by working industry professionals. Their most recent workshop, Costume & Wardrobe, was taught by Lisa Padavoni, an Emmy award winning costume designer (Boardwalk Empire, Sneaky Pete). Key Grip and Hair & Makeup workshops are upcoming on the near horizon.
Stockade Works recently hired Executive Director, Marie Nachsin, formerly of the Brooklyn Navy Yard, to help expand the organization and deliver on future goals. In 2020, Stockade Works plans to increase their training program offerings by 200%, train 100 new crew each year, and continue to create synergies and connections among film industry professionals and related non-profits. 
In addition, Stockade Works is working with a coalition to increase the numbers of film and TV productions coming to work in the Hudson Valley. "Since the tax incentives were instituted, we have seen a boost in the number of feature films that have come here. We want to attract more TV series because they create more jobs and longer term sustainable development," says Davenport. 
Claude Dal Farra
BCDF Productions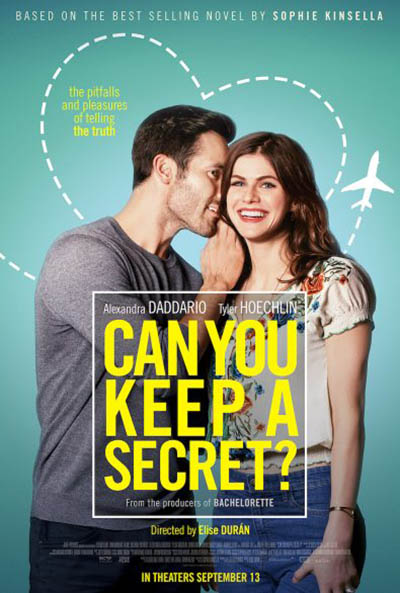 Brice and Claude Dal Farra created BCDF Productions on a 30-acre farm in Kerhonkson about a decade ago. Claude, who grew up in Cannes on the French Riviera, says, "I've always had a passion for film. My mother is a very fine dancer and renowned choreographer. I have spent my life immersed in the arts and making movies is a wonderful way to bring communities together." 
BCDF completed two high profile film projects during their first summer: Higher Ground (the directorial debut for actor Vera Farmiga) went to Sundance and Peace, Love and Misunderstanding (starring Jane Fonda) premiered in Toronto. "We were fortunate both were very well received," he says. "There's no recipe to making movies. I have a hand in every aspect of filmmaking, from finding the talent, to financing and casting, to selecting a director, working with writers and helping everyone work together happily." 
"We can make many movies, we can do a lot of things, but we only have one planet," says Dal Farra. "We try to work as ethically as we can and we operate as green as we can. We have solar panels running, grow vegetables to reduce our carbon footprint, and have 15 acres of forest we try to preserve. There are a lot of talented artists and professionals working in film and TV in Ulster County, and we hire as many as we can. We also help young people learn the business, and try to involve as many women as we can in our projects to do our little share of bringing more parity into the industry."
BCDF has two facilities here and in Los Angeles, and they try to work in New York State as much as possible.
"People need to remember the film and television business is a very important part of our American culture, and the industry is one of the critical ways we can change our reality. If we want a better future, film and TV are important ways to make this transformation. We don't do projects with violence, and respect for people and our environment is critical for us. As individuals, as humans, we are doing our share. We each have a voice, and we need to express it. Otherwise, we are surrendering our freedom."
The newest BCDF release hit theaters September 13. Can You Keep A Secret?, a romantic comedy adapted and produced in Kingston and based on the best-selling novel by Sophie Kinsella, stars Alexandria Daddario and Tyler Hoechlin. This winter, they begin shooting their next film in Kingston: The Hating Game, a rom/com starring Lucy Hale (Pretty Little Liars and Truth or Dare) and Robbie Amell (The Flash, When We First Met), and based on the hit novel by Sally Thorne.
Dal Farra is opening a wellness center, Spa 21, at the former Family Court Building in Kingston, calling it a further extension of his beliefs. "Wellness, Love, Happiness, bringing community together: It feels like I'm doing the same thing as filmmaking."
Michael Jubie
American Made Monster Studios - Headless Horseman, Hayrides and Haunted Houses
Michael Jubie of American Made Monster Studios says, "We're not Disney or Manhattan, but we're growing. I've got some very talented prop makers and set designers. We have made sets for a few independent films, and we do a lot of repairs for our original company, Headless Horseman, Hayrides and Haunted Houses (H5)."
Both companies are owned and operated by Michael and his wife, Nancy. H5 is located on 65 acres of land in Ulster Park, and the Jubies employ 375 people between their two companies. "People don't realize what we are and what we do. We create professional sets and we're big on the details," says Jubie. "We've worked on some smaller films and some commercials have been filmed on our property. I learned something on one of the movies we worked with: If they have a gun screen and are using a real shotgun or pistol, the filmmakers have to hire an armorer to be onsite. If they can produce the screen with a weapon that does not fire, they cut out the expense of hiring an armorer."
With the H5 focus on creating an original show each year, the Jubies didn't aim to get into the film industry, but they created American Made Monster Studios to help their own corporation. "Every year, H5 creates an entire scripted show. That's 27 themes in 27 years. We consistently draw people from seven surrounding states and from around the world. The Chinese Travel Channel sent eight people here to film," he says. H5 has received #1 ratings and multiple kudos from sources as diverse as The Daily News, The Travel Channel, Good Morning America, The Saturday Evening News, Emeril Live, Time Magazine and the list continues to grow. "We are one of the largest seasonal employers in Ulster County, and we're doing our best to build our local economy. This year alone, I've gotten calls from Texas, South Florida and Kuwait. People visit H5 and make a weekend of it in the Hudson Valley."
"Our name, American Made Monster Studios, may be our worst enemy," he laughs. "We're not just about horror. We create whatever is needed. We made horse's heads for a production of Equus at The Woodstock Playhouse, and we just have been contracted to decorate train cars. We flip H5 over to a Christmas event, a Frosty Fest: It goes from scary to merry in two weeks time."
Links:
 Free registries on The Ulster County Film Office, Hudson Valley Film Commission and Stockade Works websites will help you promote your business services to filmmakers. 
American Made Monster Studios
https://americanmademonsterstudios.com/
Jillian Fisher
https://www.imdb.com/name/nm2656294/
Hudson Valley Film Commission
https://www.hudsonvalleyfilmcommission.org/
Stockade Works
https://www.stockadeworks.org/
The Ulster County Film Office 
Upstate Women in Film & Television (UPWIFT)
Woodstock Film Festival